Amma's message in action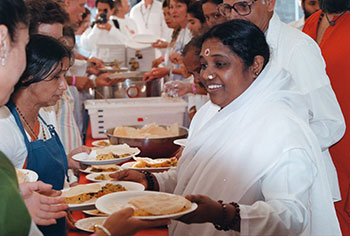 In 1996, people inspired by Amma's teachings about serving the poor asked her if they should find a place with a real need and try to help. When Amma said yes, they found a small soup kitchen in west Oakland serving free meals every weekday while operating on a shoestring budget. Mother's Kitchen began serving hot meals there twice a month, soon adding bagged lunches too.
The idea spread and soon Mother's Kitchens began popping up all over the map. Currently, there are 42 in the U.S., Canada and Costa Rica. Most help existing facilities, by purchasing food and supplies from donations made to Mother's Kitchen, and by supplying volunteers to prepare, cook and serve the meals. Some groups also collect clothing, household items or food staples for communities in need.
Mexico became part of this project in August 2013 through Amma Center Cancun, where there is a kitchen set up to receive donations of provisions, food and volunteers to help those most in need once a month.

Our objective is not just to make sure people's nutritional needs are met but by preparing vegetarian food with love and devotion so that they also feel the benefit in their heart. We spend time with each family that we serve to find out their needs and try to provide whatever else they might be lacking.