AMMA'S LIFE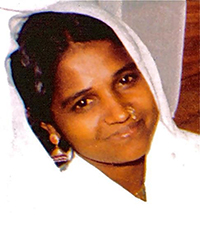 Amma was born in a remote coastal village in Kerala, South India in 1953. Even as a small girl, she drew attention with the many hours she spent in deep meditation on the seashore. She also composed devotional songs and could often be seen singing to the divine with heartfelt emotion. Despite her tender age, her compositions revealed remarkable depth and wisdom.

When Amma was nine years old, her mother became ill, and Amma was withdrawn from school in order to help with household tasks and the care of her seven siblings. As she went door-to-door gathering food scraps from neighbors for her family's cows, she was confronted with the intense poverty and suffering that existed in her community, and in the world beyond it.
Where Amma encountered people in need, she brought them food and clothing from her own home. She was undeterred by the scolding and punishment she received from her family for doing so. Amma also began to spontaneously embrace people to comfort them in their sorrow. Responding to her affectionate care, they began to call her Amma (Mother).

Amma was deeply affected by the profound suffering she witnessed. According to Hinduism, the suffering of the individual is due to his or her own karma, the results of actions performed in the past. Amma accepted this concept, but she refused to accept it as a justification for inaction. Amma contemplated the principle of karma until she revealed an even more profound truth, asking a question she continues to ask each of us today. If it is one man's karma to suffer, isn't it our dharma (duty) to help ease his suffering and pain?

With this simple yet profound conviction - that each of us has a responsibility to lend a helping hand to those less fortunate - Amma moved forward with confidence in her life of service and compassionate care for all beings, uniquely expressed by the motherly embrace she offers to all who seek solace in her arms.

In Amma's community, however, it was not permissible for a 14-year-old girl to touch others, especially men. Amma explains, "In India, women are expected to remain in the background. It is said that 'Even the walls should not hear them.' My family could not understand my way of reaching out to people; they had no idea of the spiritual principles. But despite adverse reactions, Amma followed her heart, later explaining: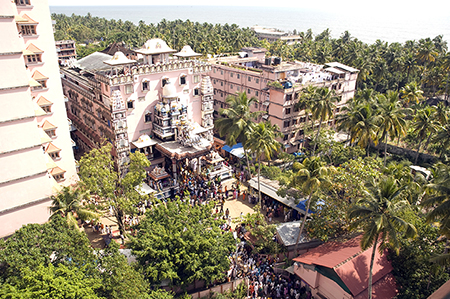 "I don't see if is a man or a woman. I don't see any difference between them and me. A continuous stream of love flows from me to all of creation. This is my inborn nature. The duty of a doctor is to treat patients. In the same way, my duty is to console those who are suffering."

Each project of embracing the world began in response to the needs of the world's poor who came to unburden their hearts to Amma and cry on her shoulder. More than 25 years ago, the administrators of a local orphanage confessed to Amma they were out of funds and that before long, they would have to turn the children out on the street. Amma diverted money that had been saved to build her first prayer hall and used it to assume care of the orphans. With this, embracing the World was born.
Amritapuri in Kerala, India, is now the headquarters of Amma's worldwide mission and the spiritual home for Amma's monastic disciples and hundreds of householder devotees. All the residents have dedicated their lives for realizing God and serving the world. Everyday, Amma's children from across India and abroad flock there to have Amma's darshan. She sees each and every one, listens to their worries, consoles, encourages and provides new direction to their lives.

Throughout her life, Amma has embraced and comforted more than 32 million people. When asked where she gets the energy to help so many people at the same time She runs such great humanitarian organization, she answers: "Where there is true love, anything is effortless."
...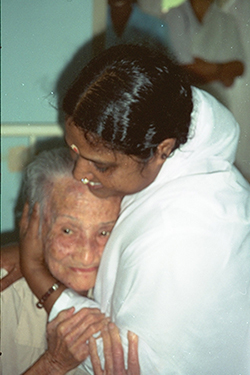 Amma's darshan
Truly a citizen of the world, Amma holds free public programs throughout India, Europe, the United States and Australia, as well Japan, Sri Lanka, Singapore, Malaysia, Canada, Africa and South America. In her talks, she offers words of wisdom and guidance on both personal fulfillment as well as the most pressing matters of our time. To this day, Amma concludes her programs by embracing each person attending the event.

When asked by the BBC, "Why do you hug people?" She replied: "That is like asking a river, 'Why do you flow?' It simply flows because that is its nature. In the same way, this is Amma's nature, a mother expressing her love to her children."

This unique and extraordinary expression of universal love is known as Amma's darshan. It can last twenty or more consecutive hours in one day. That motherly embrace, that has been repeated hour after hour and day after day in the past 40 years, has become both catalyst and symbol for the growing international network of humanitarian initiatives that is embracing the World.
...
Amma's teachings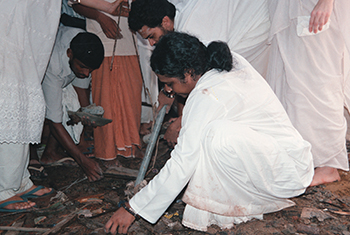 Her teachings are a call to turn our gaze to the noble qualities of heart in everyday life. She teaches that we cannot grow spiritually unless we develop an altruistic spirit. Thus, She has created numerous charitable works in which the constant aim is the development of the human person in all its dimensions. Over forty years of tireless service, Amma has counseled and comforted people from all geographical, cultural and social backgrounds. Personal contact, affection, compassion, tenderness and deep attention to all states, spiritual charisma, innocence and humility that are natural, are unique. Every moment of Her life is devoted to seek the welfare of others. Her life is the best example and it can inspire us. Her teachings are also reflected in humanitarian projects that encourage selfless service. Amma emphasizes on the need to help the most disadvantaged in society. The duty of those having a comfortable life is to help those without means.
It is considered a Mahatma or Great Soul. Mahatmas appear among us rarely. Eastern traditions teach that the source of inspiration of every religion springs from the same Supreme Consciousness, that God is One and that a constant flow of divine energy pervades the universe and all beings. In Amma, we see the divine flow of love and wisdom. She is the supreme guide, it is permanently sustained by unwavering experience of the Divine, beyond the limitations and personal and cultural conditioning. Reaching Amma is a blessing; it is the most precious thing.
Throughout the whole world, Amma has created sanctuaries for all people to come together and deepen their search for spiritual fulfillment. Amma teaches that world peace will only come when we realize that everything in the universe is essentially divine. To facilitate this understanding, Amma encourages us to meditate, pray, and serve the suffering. Every day these centers provide food and livelihood to poor people, care for the elderly, raise funds for the poor, help refugees worldwide and promote environmental initiatives.
Amma's teachings focus on four concepts:

Love
Love is our true essence
You can only feel love when you express it
Love is the medicine that will cure the world

Serve
Our highest duty is to help those in need
Learning to put others ahead of oneself
The world needs servants, not leaders

Conserve
Humanity and Nature are inseparable
We must give and not only take from Earth
We must act now and correct our mistakes

Practice
Meditation calms the mind and balances the emotions
The Bhajans or Kirtans help gain concentration
By reciting the divine names mental purity is obtained
...
International Acclaim
For nearly twenty years, Amma has been regularly invited to speak at international forums, which spoke of world peace and harmony among religions. In 1993, the centenary of the Parliament of World Religions named her president of the Hindu faith. She gave a speech at the Millennium World Peace of the United Nations and in 2002 She was awarded the Gandhi -King Award for Nonviolence received at the hands of the Messenger of UN for Peace, Dr. Jane Goodall. In 2006, Amma, with the winner of the Nobel Peace Prize 2005, Mohamed El Baradei, and actor and humanitarian activist, Richard Gere, received the James Parks Morton Interfaith Award from the Interfaith Center of New York for her role as a prominent spiritual and humanitarian leader.
In presenting the award, the Reverend James Parks Morton said about Amma: "You embodies everything we stand for."
In 2010, Amma receives an honorary Doctorate in Humane Letters from the State University of New York at Buffalo, in recognition of her tireless efforts for world peace and for her commitment to education and the eradication of world poverty.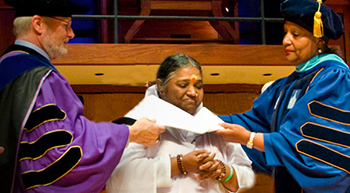 In each of these forums, Amma has taken the opportunity to share her vision of how humanity can go through the difficult path that lies ahead: leading interfaith discord to harmony, from terrorism to peace, competition between sexes mutual trust and cooperation, war between nations to collectively fight against poverty, and from the environmental chaos restore balance in nature. Amma 's remarks invite us all to deeply reflect and participate in the process of rebuilding a society that is more caring and committed.
Together Amma 's speeches are a recommendation for a humanity in crisis and deal with the most pressing issues of our time with clear and practical recommendations for positive change.
...
Awards & Speeches
Kerala, 2013:

Amma receives the first-ever Vishwaretna Puraskar (Gem of the World Award), bestowed by the Hindu Parliament.

Shanghai, 2012:

Amma addresses the United Nations Alliance of Civilizations in Shanghai. Amma was the only spiritual/religious leader invited to the conference.

New York, 2010:

Amma receives an honorary Doctorate in Humane Letters from the State University of New York at Buffalo.

New Delhi, 2009:

Amma inaugurates the Vivekananda International Foundation.

Jaipur, 2008:

Amma is a keynote speaker at the Summit of the Global Peace Initiative of Women.

Paris, 2007:

Amma is awarded the Prix Cinéma Vérité for her humanitarian activities and work for peace at the Cinema Verite Film Festival.

New York, 2006:

Amma receives the James Parks Morton Interfaith Award in New York.

Pune, 2006:

Amma receives the Philosopher Saint Sri Jnaneswara World Peace Prize.

London, 2005:

Amma receives the Mahavir Mahatma Award.

Kochi, 2005:

Amma receives Centenary Legendary Award of the Rotary Club International.

Barcelona, 2004:

Amma delivers a keynote address at the 2004 Parliament of the World's Religions.

Geneva, 2002:

The World Movement for Nonviolence confers upon Amma the Gandhi-King Award for Non-violence at the UN in Geneva.

Geneva, 2002:

Amma is the keynote speaker at the Global Peace Initiative of Women Religious & Spiritual Leaders at the UN, Geneva.

USA, 2002:

Amma receives Karma Yogi of the Year Award from Yoga Journal.

New York, 2000:

Amma is a keynote speaker at the Millennium World Peace Summit, UN General Assembly.

Chicago, 1998:

Amma receives the Care & Share International. Humanitarian of the Year Award.

New York, 1995:

Amma addresses the Interfaith Celebrations at the 50th anniversary of the UN.

Chicago, 1993:

Amma addresses the Parliament of the World's Religions' 100th Anniversary, where is she named President of the Hindu Faith.

USA, 1993:

Amma receives the Hindu Renaissance Award from Hinduism Today.
...