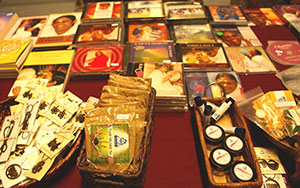 Fudraising
The Amma Shop began in 1987, as a way to support Amma's first tour in the U.S. and Europe. It has always been run by volunteers, and still is. Through the appreciation of shoppers like you, it's expanded to support Amma's charities around the world. It provides inspirational books, music, and many other unique and unusual gifts, all suggestions from our customers over the years. That's why we say, "Together, we are this shop."
Our Home Base

Good Energy, More Happiness
Although our main stores are based in the United States, most of our items are made in India. In fact, many of the books and magazines and other products are packaged directly in the center of the main temple, in the midst of sacred ceremonies and chants, ensuring that what you buy is full of blessings and, we hope, a certain amount of magic.

Also, since all our products are connected with Amma, in their own way, everything we have carries her unique and special energy. In fact, we like to think that everything we sell is blessed.
Our Ethic

Love, Serve and Work for Worldwide Happiness
Everything we sell goes to support Amma's humanitarian activities around the world. And since it is all run by volunteers who really work for no pay, that means even more of your money goes towards doing good.

So think about it, every time you buy with us, you are helping us to help others. This means we are absolutely grateful for your support. Really.